Learn more about Australia's most endangered songbird in three podcasts available online that were produced by The Comms Doctor®.
The three stories describe:
the Regent Honeyeater;
how it is being brought back from the brink of extinction through a collaborative captive breeding program; and
how the community of Chiltern has actively embraced the bird and the surrounding national park in which the bird breeds.
In the first of these podcasts, titled A glorious bird in trouble, experts describe the stunning Regent Honeyeater and why it is in endangered. [Listen here].
The remaining podcasts are available when you visit the huge mural depicting this bird and other inhabitants of the Chiltern-Mt Pilot National Park, and also available through the project landing page.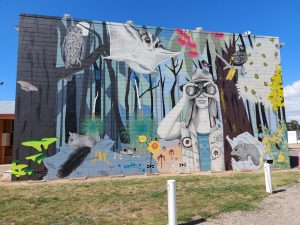 Learn more about the 27 plants and animals in the mural from the interpretation sign located in front of it, at the Chiltern Recreation Reserve in Conness Street, as you drive towards Barnawartha. Chiltern is located off the Hume Freeway in North East Victoria, between Wangaratta and Wodonga.
Use the QR code on the mural interpretation sign (see below) to take you to the project landing page, which gives you access information about each of the 27 species, the three podcasts, maps showing walks through the park, a citizen science app, and even answers to a hunt involving the mural.
This communication project was planned, executed and coordinated by The Comms Doctor®, with and for the Victorian Department of Environment, Lands, Water and Planning and its partners.