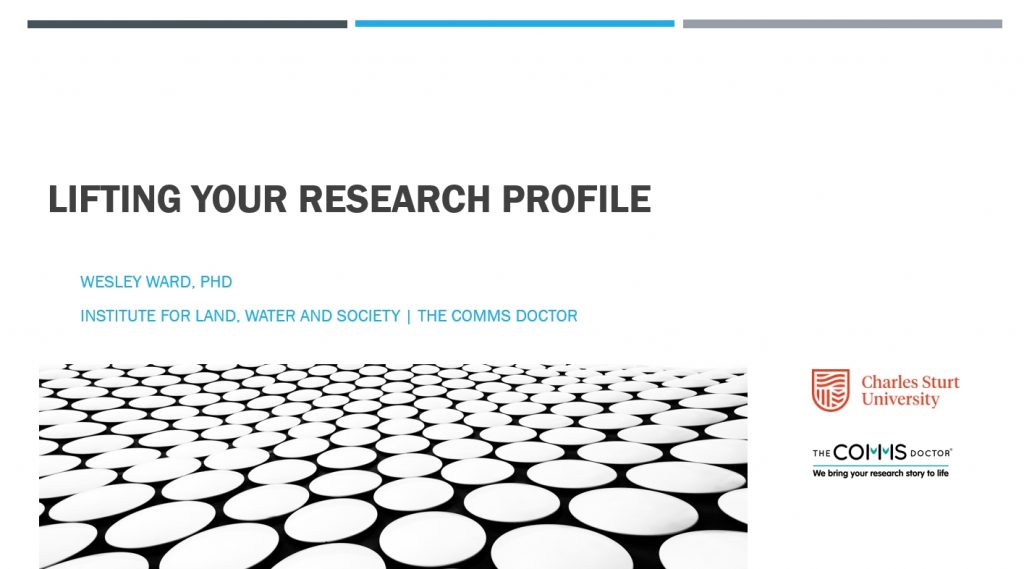 The Comms Doctor® has developed and delivered the first of two sets of online workshops for 2020 custom tailored for early and mid-career researchers at Charles Sturt University to help them promote their research to wider audiences.
The two-hour sessions explored:
'Who's looking at your research?', developed specifically for PhD students and early-career researchers working in research projects across the university, from agriculture and environment to social sciences, health and theology, and who are looking to promote their research through broadcast and social media; and,
'Lifting your research profile', which focused on mid-career researchers looking to raise their profiles through the media as experts and public intellectuals.
The online seminars also included ideas and tips from three leading academics and media performers at CSU, as well as a presentation from the University's News Team to help continue the practical help, advice and promotion after the sessions were completed.
The sessions were hosted by the CSU Research Office and presented by Wesley Ward, PhD, an experienced communicator and social researcher who has provided similar training to researchers and students for nearly twenty years, and online since 2013.
For more information and to explore your training needs, contact email via contact@thecommsdoctor.com.au or Twitter @TheCommsDoctorAU