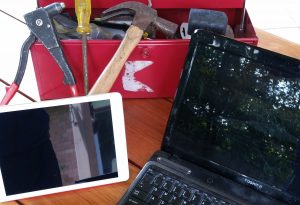 Computers and associated software have become vital tools for long range communication, particularly during the COVID pandemic.
They can help people 'talk around the world', help maintain professional relations, and widen networks; but they can also raise communication barriers between the people that use them.
Using some communication programs for communication between research collaborators can be likened to eating lasagne with chopsticks – near impossible!
[Read more on this task in my blog titled Lasagne, chopsticks, and communication in international teams.]
This image reflects what some scientists from developing countries feel when they use particular information and computer technologies (ICTs) recommended (or even forced on them) by their overseas counterparts for communication within their teams. It also
Furthermore, these ICTs can be an expensive failure as they don't meet the needs of the project and the team, whether they be in Australia or overseas.
But what if you really want to make collaborations work? What if you want to try other ways of 'eating that lasagne' to establish more effective communication between your team members dispersed across countries and time zones?
In recent blogs, I have addressed what users should consider when selecting ICTs for their collaborations, based on the team's communication needs and the context in which they operate.
[See my blog Lasagne, chopsticks, and communication in international teams for details on barriers for team communication, particularly those operating in developing countries.]
I incorporated these barriers into an assessment tool that I developed, called I-CHET, which I then applied to nine ICTs used by international agricultural research teams comprising mainly Lao and Australian scientists who operated in Lao PDR.
And what were some of my findings?
Most users preferred to use email, particularly as it allowed non-native English speakers to better understand and 'craft' their messages;
Video communication programs like Skype had inherent difficulties for non-native English speakers due to language and it required higher bandwidth which was not available to Lao scientists or Australian scientists in regional areas;
Mobile (cell) phones were more available in South East Asia and circumvented the need to lay expensive physical telecommunication infrastructure across nations where none previously existed. However, while mobiles allowed non-verbal cues to be more easily conveyed, language and cultural difficulties continued for some non-native English users.
While Facebook was ranked very favourably, particularly in supporting interpersonal and group communication, it was not considered by many users for 'professional' use – it was only for families.
These findings highlight the importance of assessing the use of various ICTs in the contexts of various users, particularly team members who are scattered across a country or the globe.. For example, the I-CHET assessments in my study were carried out in regional Australia, the Lao capital Vientiane, and in provincial Lao PDR. These are very different contexts to ICT users I assessed in metropolitan Australia.
[For more details on this assessment, read Please, can I use something else to eat my lasagne?]
So, what for the future use of ICTs by international research teams? I believe each ICT tool can have a vital place in a team's communication toolbox, from the direct document dissemination of email, to the support for group 'conversations' offered by Facebook, and the cheaper alternative to face-to-face communication offered via online conferencing, particularly during the COVID pandemic.
However, if these tools are to be effective for teams, they should be assessed, discussed and tested by and in the individual contexts of team members, and protocols regarding their usage negotiated and agreed by all team members before research projects start. This avoids or minimises the initial frustrations, barriers and misunderstandings that can occur in communication between team members in various local and international contexts.
Any problems arising in using communication ICTs should also be included in regular projects meetings to ensure the tools used continue to be the most appropriate for the needs of these teams. This also opens the door testing new or more appropriate tools for use by and in the context of teams.
Information in this blog first appeared in a blog from March 2018 on the RAID website titled Please, can I use something else to eat my lasagne?. It used research from my my PhD with Charles Sturt University, where I investigated collaborations between scientists from Australia and the Lao Peoples Democratic Republic in South East Asia.