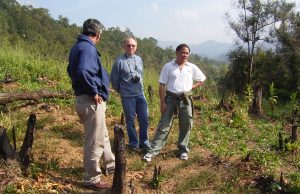 The face of collaboration is changing.
The COVID-19 pandemic is fundamentally shifting the ways we work together. Where once we met face-to-face, the pandemic has opened the doors to far greater use of digital technology to enable and encourage meetings, without close physical contact.
Researchers and communicators have been inundated with new communication tools for use in different situations, cultures and needs:
Conferencing software such as Zoom and Outlook Meetings allow users to share computer screens or edit content in 'real' time.
Instant messaging and 'chat' functions encourage meeting participants to comment on online presentations, ask questions, and share information such as pictures or website addresses.
Mobile phones enable contact for meetings when people are 'on the move' and not in the office.
Software such as email to help transfer documents to specific users.
Websites can provide regularly edited information in text, audio, still photo and video formats.
Short format 'microblogs' such as Twitter highlight and promote opinions and up-to-the-minute data.
But are they all appropriate for a research group's needs?
In a previous blog, I addressed the communication needs of research collaborators. I suggested that user needs are a vital consideration for the selection of communication tools for a collaboration.
The second consideration is the context in which the team works, which includes the:
social, political and economic circumstances in which various team members work;
cultural and language background of each collaborator;
work culture of the organisations in which the collaborators are employed – do organisations encourage collaborations within and outside the organisation?
education and experience that users have in applying various software;
users' personal preferences for software; and,
bandwidth and online infrastructure available to users, as the hardware and software that can be used in a collaboration will be limited by the maximum download and upload speeds that all collaborators can access (location plays a big part here!).
These considerations provide opportunities and barriers for team communication, and should be considered when setting up and maintaining teams.
Specifically, team managers play important roles in this selection process, and so should have information about both their teams and the hardware and software they use in their professional positions.
Tools are being developed to help collaborators to select the most appropriate media, however these selection tools need to recognise these various barriers and opportunities for using media.
For further strategic thinking and advice on communication in upcoming collaborations, contact The Comms Doctor® via email contact@thecommsdoctor.com.au or visit the Comms Doctor® website.
In my PhD with Charles Sturt University, I investigated what makes collaboration tick between scientists from Australia and the Lao Peoples Democratic Republic in South East Asia, including the contexts in which they collaborate as researchers. Read more about my work here.