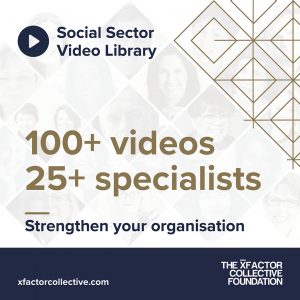 Small to medium sized Australian charities and not-for-profit organisations now have access to a resource to support their organisations during times of change, challenge and transformation.
The X-Change Video Library – an initiative of The Xfactor Collective Foundation – has launched today with 100 free videos recorded by 25 specialist experts in the The Xfactor Collective.
The short videos (3-10 minutes) cover various topics: from fundraising, marketing and communication. to digital transformation, workplace well-being and governance.
The videos, which can also be found in YouTube, include three items on telling effective stories by The Comms Doctor: planning stories for communication, finding good stories, and the 3 Hs that make good stories. Other collaborators in the video project included The Centre for Volunteering, Fundraising Institute Australia, Justice Connect and Infoxchange.
The Xfactor Collective Foundation is a registered charity that aims to improve the mental health and well-being of the social sector. It was established in 2020 as the sister charity to the social enterprise The Xfactor Collective, which has provided resources and support to more than 5,000 charities since 2018.
The expansion of the Video Library was funded by the Social Sector Transformation Fund, an initiative of the NSW Department of Communities and Justice.