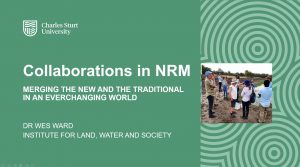 #Trust and #respect between team members is vital for strong relationships and professional collaborations in natural resource management #NRM – and for a recent presentation on 25/05/2021 to #environment undergraduate students at Charles Sturt University.
It was good to be able to draw on local and international examples of successful and not-so-successful collaborations from my research through CSU's Institute for Land, Water and Society, based in Albury, NSW.
Thanks to Dr Jen Bond for giving me the opportunity to reflect on over 30 years on the #scicomm and #collaboration trails!